E-File IRS Form 2290
What is an IRS Form 2290?
Form 2290 is a Federal Excise tax that is imposed on vehicles operating on highways with a gross vehicle weight of 55,000 pounds or more. This tax is paid annually for all vehicles that have a gross vehicle weight above 55,000. This may also be referred to as Heavy Vehicle Use Tax.
What is IRS form 2290 used for?
The IRS Form 2290 has 4 main purposes:
Pay tax for vehicles with a taxable gross weight of 55,000lbs or more
Report tax exemptions for vehicles which are expected to travel less than 5,000 miles (less than 7500 miles for agricultural vehicles)
To file a VIN correction for previously filed vehicles
Report 2290 amendments such as increase in taxable gross weight or vehicles that exceed 5000 or 7500 mileage limits
Who is required to file IRS Form 2290?
Any person or company that owns and operates a vehicle with a gross weight of 55,000 pounds or more, then you are liable for filing Form 2290.
You may be an individual, limited liability company (LLC), corporation, partnership, or any other type of entity.
When Is my Heavy Highway Use Tax, IRS Form 2290 Due?
Form 2290 filing season starts on July 1st and ends on August 31st. All taxpayers will need to file their Heavy Highway Use tax within this period or you will incur tax penalties from the IRS.
If you file late, these are what penalties you will incur:
If your Heavy Vehicle Use Tax is not filed by August 31st, the IRS Will charge 4.5% of the total tax amount due.
Additionally the IRS will charge interest, .5% of the total amount due.
How do you file IRS Form 2290?
This form can be filed with the IRS with a few different ways. A taxpayer can download the form and manually fill it out and either mail it in or take it down to your Local IRS office. This method is extremely time consuming.

The easiest and fastest way is to E-File the IRS Form 2290 with an Authorized E File Provider, Such as Freewaytax.com.
If you would like to learn how to paper file your IRS Form 2290, check out our guide here.
What do I need to E-file my Form 2290?
For taxpayers that are looking to E-File their Heavy Highway Use Tax Form 2290 Online, you will need the following pieces of information:
Business Information: The business name and Address. If you are a Sole Proprietor, you may use your legal first name, last name and address.
Note:
If you are using your personal name, you must have an EIN as the IRS does not accept Social Security Numbers. If you need to file for an EIN
click here
.
Vehicle Information: You will need all of the VIN's for the vehicles you're filing for as well as their Taxable Gross Weights.
Note: The Taxable Gross Weight is determined by the weight of the truck, trailer and maximum payload that you generally haul.
Payment Information:
This tax must be paid by either EFTPS or Electronic Funds Withdrawal.
Electronic Funds Withdrawal: Supply us with your checking account and routing number and we will have the IRS electronically withdraw funds from your bank account.
EFTPS: If you select this option you must have an EFTPS account setup to pay your Heavy Highway Use Tax. To find out more about EFTPS, Click Here.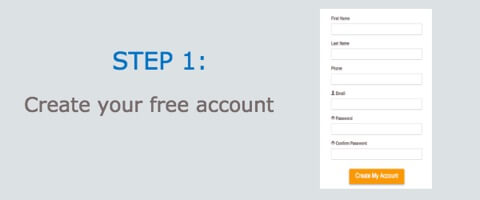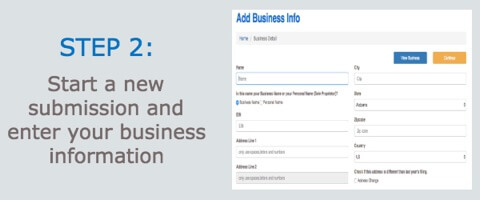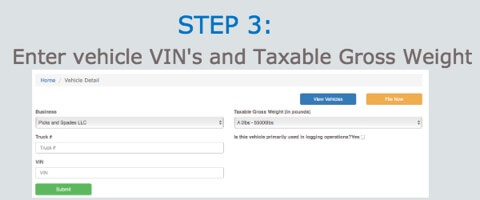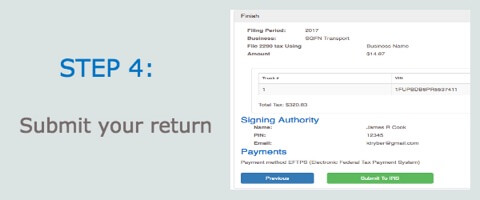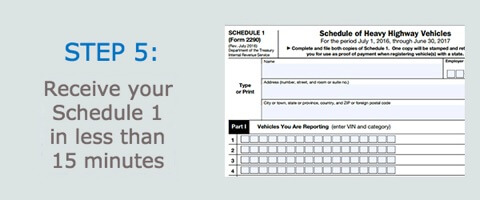 Begin E-Filing Your Form 2290 Today
;